Perfect For Holiday Decoration!
These LED Meteor Shower Lights are the best way to decorate this Holiday Season, they will turn heads with their flashy yet elegant showering effect. They make the perfect backdrop inside your home or hang perfectly throughout trees or your eaves trough.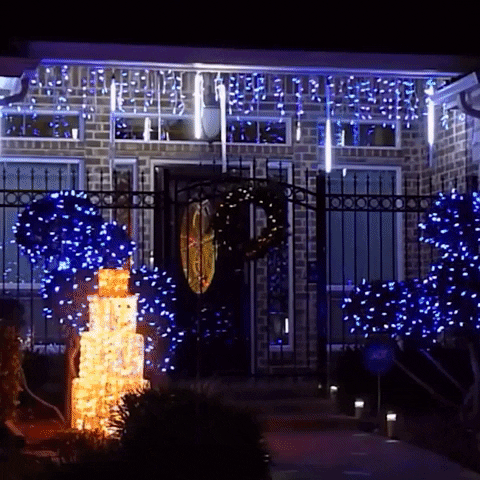 Turn your garden into a secret magical place with these exquisite dripping icicle-like lights! Watch them fall down like real-life snow and sparkle up the night!
It comes as 8 individual lights with a total of 24 LEDs that are bright enough to create an ever-lasting and magical meteor shower scene outdoors. Available in white, warm, blue and multi-color, these Meteor Shower Icicle Lights measure 12" / 30 cm in length and a total length of 11.5 ft. / 350 cm
Features:
Waterproof & Durable:

 

Designed for outdoor use, these rod lights can resist rain, water spills, winds, dust and even snow. But you are recommended to waterproof the plug and any connections you make.
Colorful & Bright Icicle effect:

 

They feature beautiful aesthetics and are effective for creating a magical effect. Four different colors can produce different effects of a meteor shower, snowfall and vibrant celestial ambiance.
Connect as many as you like:

 

You can connect as many strands of the Meteor Shower Icicle Lights as you want according to the space. Simply plug in the connector with each strand to extend the length.
Easy-to-use:

 

To turn them on, simply push the built-in button and enjoy the unique lighting effect as these Meteor Shower Icicle Lights produce a cascading effect, much like watching raindrops flowing down a window pane. Designed to connect 2 or more strands together, using one plug. Features a clear connector, at the start of the string lights, that can be used to attach up to 4 strings with one plug. This ensures that all of the lights work well and are at optimal brightness.
Ideal for:

 

Any outdoor event, weddings, Christmas celebrations, Birthdays, Anniversaries, business gatherings, hardscape lighting and tree, bush and hedge decorations.
Add flair:

 

Add rich color to your patios, porches and backyards with 4 color options of white, warm, blue and colorful. You can have barbeques and liquor sessions with your friends under these lights.
Material:

 

PC
All pictures and videos shown are for illustration purpose only. Actual product may vary due to product enhancement.