👽 Get everybody laughing around you with this awesome Inflatable Alien Abduction Costume 👽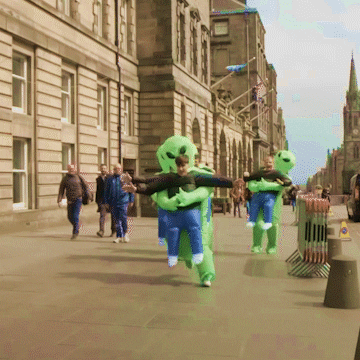 With all the hype around Area 51, this costume will play a perfect role for any cosplay - convincing everyone with an optical illusion that you're being abducted by aliens!
Unique and easy to wear costume 
No need for complex costumes that requires you to wear a couple of layers of make-up and clothes in order to complete the look. With the Alien Abduction Halloween Costume you'll be ready in no time! It's easy to put on without assistance. You will be the winner of every costume contest and draw everyone's attention on you!
Suitable for Parks, Zoo, Outdoors, Annual Party, Bar Hopping, Carnivals, Halloween, Christmas, Festivals or Birthday Parties. 
Material: Made with water-proof polyester that is strong and durable so that you will never have to worry about any tears or holes. 



Sizes: It fits great for adults and kids alike!

Adult Suit: 4ft 11'' - 6 ft 6'' (150 - 200) cm

Kids Suit: 2 ft 11'' - 4 ft 3'' (90-130 cm) 



Features:
Made from water-proof polyester.
Adults & kids sizes available.
Includes inflatable costume, fan, and battery holder.
4 x AA batteries required (not included).
Free Worldwide Shipping & 100% Money-Back Guarantee
How to Inflate
Put the costume on.
Turn on the secret, hidden fan located within the costume.
Wait approximately 60 seconds to be fully expanded.